Cabin Cake Decoration: Bake Your Fantasy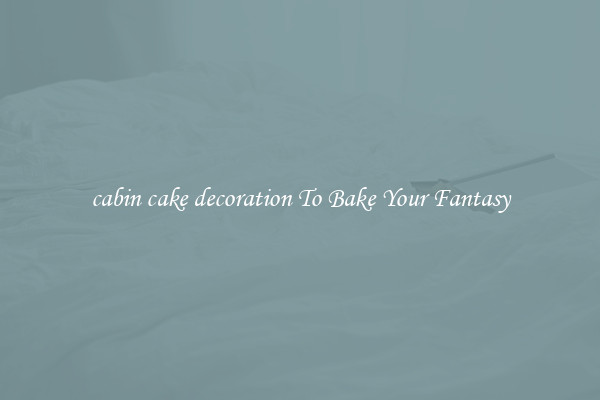 Cakes are undeniably one of the most delightful and versatile desserts enjoyed worldwide. From birthdays to weddings, cakes are a symbol of celebration and joy. However, it is not just the taste that makes a cake special but also its decoration. Introducing the concept of cabin cake decoration - a trend that allows you to unleash your creativity and bake a masterpiece that is not only delicious but visually stunning as well.
The concept of cabin cake decoration revolves around creating a cake that replicates the cozy and charming aesthetics of a log cabin. It is perfect for those who appreciate rustic and nature-inspired designs. The beauty of cabin cake decoration lies in its versatility - a design that can be adapted for various occasions, from winter birthdays to cabin-themed parties and even holiday celebrations.
To create a cabin cake, it is crucial to start with an excellent foundation. Choose a cake flavor that complements the theme, such as vanilla or chocolate. Once your cake is baked and cooled, it's time to layer it with a delectable frosting. A rich and smooth buttercream frosting is ideal for cabin cakes as it allows for intricate piping designs.
The decoration process begins with the exterior of the cake. Start by creating a crumb coat - a thin layer of frosting that seals the cake and prevents any crumbs from appearing on the final design. Once the crumb coat is set, it's time to add the final layer of frosting. You can choose any color that complements the cabin theme, such as earthy brown or mossy green.
Now comes the exciting part - recreating the charm of a log cabin through various decorating techniques. Use fondant or modeling chocolate to create logs that encase the sides of the cake. Texture the logs to resemble the appearance of wood and use edible food coloring to add depth and dimension.
To add the finishing touches, create a roof made of chocolate shingles or marzipan tiles, imitating the classic wooden cabin rooftop. You can also incorporate other elements such as chocolate trees, edible moss, and tiny fondant woodland creatures to enhance the rustic vibe.
Remember, the only limit to cabin cake decoration is your imagination. Embellish your creation with edible flowers, fondant furniture, or even a tiny edible fireplace. The possibilities are endless.
In conclusion, if you are looking to elevate your baking skills and wow your guests with a visually appealing and delicious cake, cabin cake decoration is the perfect technique to try. Bring the charm of a log cabin into your kitchen and let your creativity take flight. So, grab your apron, preheat your oven, and bake your fantasy - a cabin cake that will leave everyone in awe and craving for more.