Versatile Customized Square Paper Box Items: The Perfect Packaging Solution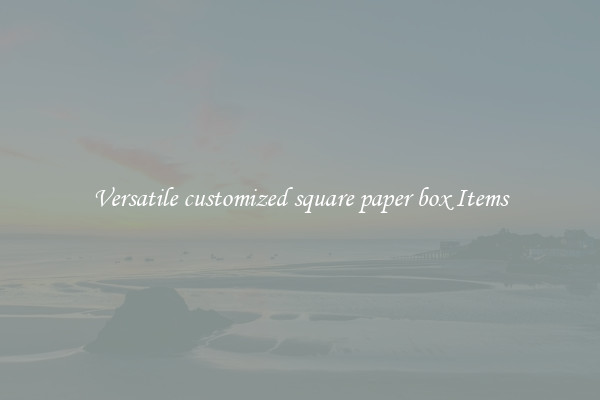 In today's fast-paced world, packaging plays a significant role in the success of any product. A well-packaged item not only enhances its visual appeal but also ensures its safety during transportation and storage. Among the various packaging options available, versatile customized square paper boxes have emerged as a popular choice for businesses across different industries.
These square paper boxes offer a plethora of benefits that make them an ideal packaging solution. Firstly, their versatile nature allows them to be used for a wide range of products. From small electronic gadgets to delicate jewelry pieces, these boxes can accommodate various items of different sizes and shapes. This versatility saves businesses the hassle of finding different packaging options for different products, streamlining their operations.
Furthermore, the customization aspect of these square paper boxes makes them stand out in the market. Businesses can choose to add their logo, brand name, or any other artwork to the boxes, ensuring brand recognition and establishing a unique identity. This branding opportunity not only adds a professional touch but also helps in creating a lasting impression on customers. Customized square paper boxes act as a marketing tool, promoting the brand even after the product has been purchased.
The material used in the manufacturing of these boxes is also worth highlighting. Made from high-quality paper, they are not only eco-friendly but also durable. This durability ensures that the items inside are well-protected from external damage and environmental factors. Paper-based packaging is also lightweight, making it cost-effective in terms of transportation and reducing the overall carbon footprint.
Another advantage of customizable square paper boxes is their easy storage and assembly. These boxes are typically designed to be flat-packed, taking up minimal space when not in use. Assembling them is a breeze, requiring no additional tools or expertise. This simplicity in storage and assembly makes these boxes a convenient choice for businesses of all sizes.
Additionally, square paper boxes can be further enhanced with various features to suit specific product needs. From inserts and dividers for organizing small items to windows for display purposes, these boxes can be customized to cater to different requirements. These additional features not only elevate the packaging aesthetic but also improve the functionality of the boxes.
In conclusion, versatile customized square paper boxes offer an excellent packaging solution for businesses across industries. Their versatility, customization options, eco-friendly nature, and durability make them an ideal choice for various products. The easy storage and assembly further add to their appeal. With these boxes, businesses can ensure their products are well-protected, visually appealing, and promote their brand effectively.